Environmental Activities

Biodiversity
Biodiversity Initiatives
In the Nippon Chemi-Con Group's activities to conserve biodiversity, we will take actions for each of the three impacts on biodiversity.
Impact from procurement of raw materials

In cooperation with our suppliers, we share views and mutual understanding concerning biodiversity, and move continuously ahead with activities.

Impact on ecosystems caused by manufacturing

Our manufacturing processes use energy and resources, and they emit CO2, waste water and other emissions. As this is an area where our Group's business activities directly have an impact, effective and continuous activities are ongoing. At the model factory, water quality and aquatic life surveys near the plant are regularly conducted to confirm that there is no change in the surrounding environment.

Impact on biodiversity due to changes in environments surrounding our workplaces caused by our use of land

Consideration to local environment and surrounding ecosystem by securing green space in our premises and the social contribution activities.
Biodiversity offers indispensable and vital bounties (ecosystem services) to all of humanity. The activities that we are able to perform are steady and modest ones, we think. Yet we believe that each workplace employing its ingenuity, and continuing with what small activities it can accomplish, is a very significant thing. We will roll out such steady and continuous activities.
Chemi-Con Yamagata Corp. Nagai Plant
Planting of nursery plant in the premises to protect specified natural monument of Yamagata Prefecture "butterfly" by our employee, with cooperation of children.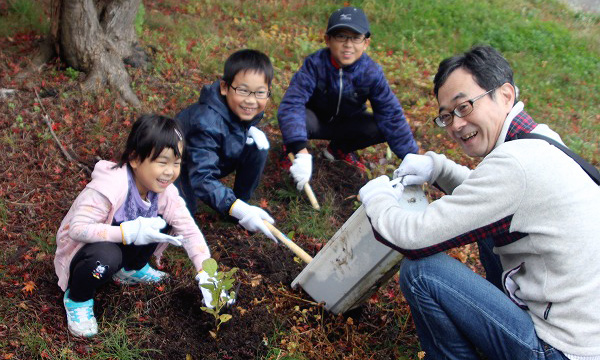 Nippon Chemi-Con Corporation Niigata Plant
Promoting protection of specified natural monument of Niigata Prefecture "Kitano-Medaka," and enlarging protection circle by contributing to nearby elementary school.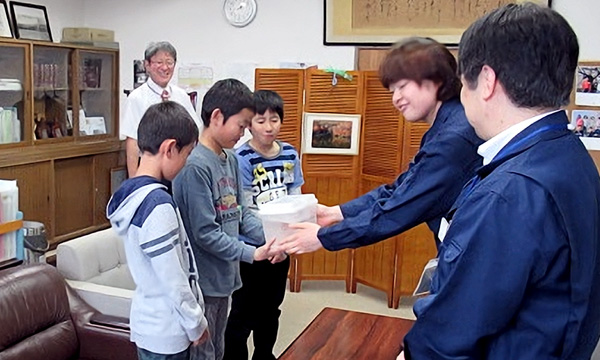 Chemi-Con East Japan Corp. Iwate Plant
We conducted conservation activities for the MinamiMedaka (Japanese rice fish/ Oryzias latipes), an endangered species in Iwate prefecture. We also requested cooperationfrom nearby elementary schools.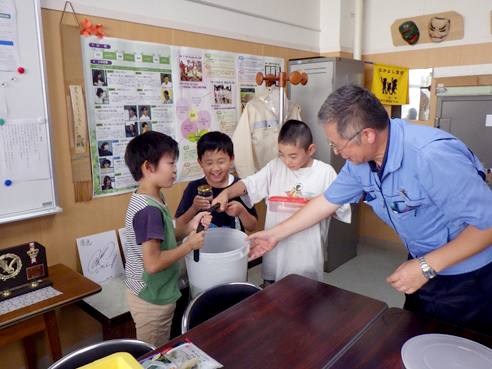 Chemi-Con East Japan Corp. Miyagi Plant
"Shinai-motsugo" is a type of fish, registered as an endangered species by the Ministry of Environment, found at Shinai-numa in Miyagi Prefecture.
Chemi-Con East Japan Corp. Miyagi Plant has been attempting hatching of Shinai-motsugo in its premises. By guidance from NPO, and by interacting with an elementary school which is participating in protection of Shinai-motsugo, we finally succeeded in hatching in 2018.
Since 2019, we released Shinai-motsugo to their home, "Katsurasawa-pond," with elementary school students. the birthplace of Sinai-motsugo, together with local elementary school students. As a member of community, we will perform activities that share the importance of passing on the rich nature to our future generations.