Green Procurement / Purchase
A system in which a company procures or purchases materials with low environmental impact is called Green procurement or Green purchase.
This page introduces green procurement and purchase at Nippon Chemi-Con.
Operation
We have classified Green Procurement and Green Purchase as follows.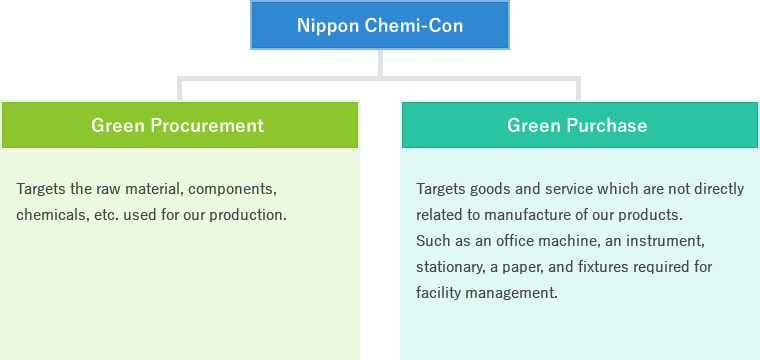 Outline of the Green Procurement
Nippon Chemi-Con's green procurement system consists of two pillars, the affirmation of "the environmental management measures" of our suppliers, and "chemical substances control".
As for "the environmental management measures", our suppliers assess themselves using self evaluation sheet and answering the questions on their environmental management systems and activities. Based on the results of their assessment, we grasp the status of our suppliers' environmental conservation activities. Depending on the result, we may call for improvement in their management systems, or conduct an audit.
For chemical substances control, using a regulated chemical substance list that we create internally, we confirm that chemical substances are being managed in accordance with regulatory requirements.
Controlled chemical substances consist of substances prohibited to be contained and reportable substances if contained. The main objectives of "chemical substances control" is to have our suppliers prove that raw materials and components supplied to us do not contain any banned substances, or to have them report substances contained. We also ask our suppliers to submit support documents such as analysis data or element data.
Revision of Green Procurement Standards
In June 2003, Nippon Chemi-Con announced "Manual for Controlled Chemical Substances of Nippon Chemi-Con Corporation" which specified chemical substances controlled at the time of procurement and management of controlled chemical substances, and since then, we have handled chemical substances based on this manual.
However, with changes in domestic and international regulations and in requirements of our customers, we began reviewing the procurement standards, and finally revised the standards in April 2018.
Information on Green Procurement
July 1, 2019 Revision of our Green Procurement Standards
We have reviewed our list of controlled chemical substances in response to changes in laws and customers' requirements.
We have also revised related document formats.
Green Procurement Standards and related documents
Here you can browse and download the latest information and materials related to green procurement.
Downloads (related to material procurement)
If you have any questions about this, please contact below.
For inquiries on procedures and
supplied goods
Nippon Chemi-Con Corporation SCM Procurement Department

TEL: +81-3-5436-7630
FAX: +81-3-5436-7719
Or contact the person in charge of procurement in each production site.
For technical inquiries on chemical substances and the list of controlled chemical substances
Nippon Chemi-Con Corporation Administration Department Environment Group

TEL: +81-3-5436-7633
FAX: +81-3-5436-7596
Outline of the Green Purchase
Each business site and plant of Nippon Chemi-Con had settled green purchase standards and carried out green purchase individually. However, in order to share the same green purchase standards company-wide, we established common guidelines in June 2003 for internal operations.
The guidelines target on the following nine goods and five services, which were selected based on the Law on Promoting Green Purchasing and green procurement network standards. One example is, we set copy paper standards for its mixing ratio of waste paper and whiteness degree, and purchase of the acceptable goods will be considered as achievement of green purchase.
| Target | Details |
| --- | --- |
| Paper | Copy paper, printing paper, toilet paper, etc. |
| Stationery | Ballpoint pens |
| Office furniture | Desks, chairs, shelves |
| Office automation equipment | Copiers, fax machines, PCs, printers, monitors |
| Home appliances | Air conditioners |
| Lighting | Fluorescent lighting equipment, fluorescent tubes |
| Cars | Company-owned cars, leasing cars |
| Uniforms | Uniforms, work clothes |
| Waste disposal | Environmental-friendliness of waste disposers |