Disclosure Policy
Nippon Chemi-Con Corporation (hereinafter referred to as "Company") will strive to serve shareholders and investors by promptly providing information based on the principles of transparency, impartiality and consistency. It is our policy to disclose information in compliance with the timely disclosure rules stipulated by the Financial Instruments and Exchange Law and the Tokyo Stock Exchange (TSE), as well as to pursue active disclosure of information we consider beneficial in understanding our Company.
Method of Disclosure
Important information for which timely disclosure is required under the timely disclosure rules stipulated by the TSE is registered and disclosed on the TSE's timely information disclosure system (TDnet) following a preliminary report to the TSE. After registration on the TDnet, the same information will be promptly released to media organizations and published on this website without delay.
Flow of Timely Disclosure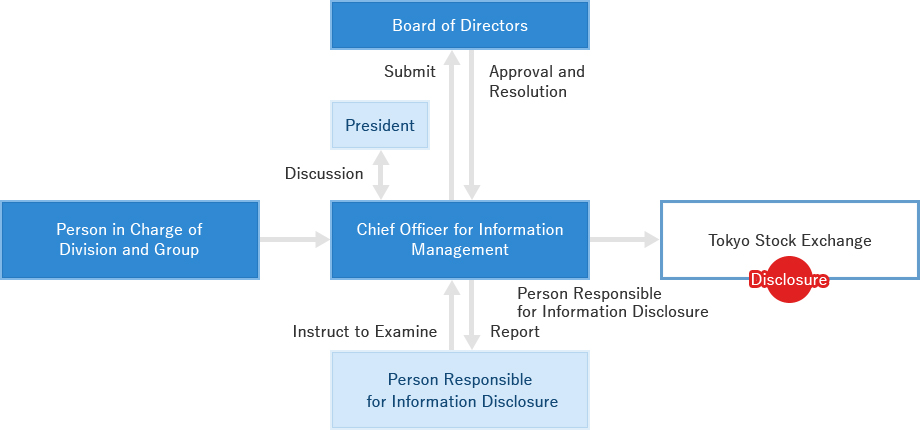 Performance Forecasts and Predictions about the Future
The Company and its affiliates' plans, future outlooks, strategies and other statements contained on the Company's website, other than statements about past or present facts, constitute forecasts related to future performance and are based on judgments and assumptions made with information available at the time of disclosure. Accordingly, actual performance may differ from such forward-looking statements due to changes in uncertain elements, economic conditions, and other factors.
Quiet Period
The Company observes a quiet period from two weeks before the settlement date until the day results are announced in order to prevent the leakage of financial information and ensure fairness. During this period, the Company refrains from answering questions and making comments related to financial performance. However, if expectations emerge during the quiet period that results forecasts will change substantially, the Company will make a suitable public announcement in accordance with disclosure rules. The Company will respond to questions that are limited to information previously made available to the public, even during the quiet period.
Positioning of the Nippon Chemi-Con Website
This website is posted on the Internet and is available to all persons who wish to access our information. In order to make fair information disclosures, information that is made publicly available is posted on the website as soon as possible thereafter, but posting of information may be delayed because of telecommunications or other problems, and therefore, the website is positioned solely as a secondary information source.
In addition, not all information disclosed by the Company is posted on the website. Information made available by other means may be modified to an easier to understand format for posting on the website. When accessing information on our website, please keep these points in mind.