About the Company
Company Profile
Leading Manufacturer of Aluminum Electrolytic Capacitors
Nippon Chemi-Con started its business in 1931. Since then, Nippon Chemi-Con has pursued the development of a variety of electronic components that support the electronic industry. About 90% of our products are the electronic component called a "capacitor," and "aluminum electrolytic capacitors" account for more than 90% among the capacitors. We hold the largest share in the aluminum electrolytic capacitor market.

SMD type

Radial lead type

Snap-in type

Screw terminal type

Conductive polymer aluminum solid capacitors

Conductive polymer hybrid aluminum
electrolytic capacitors
What Are Capacitors?
Essential Electronic Component for Daily Life
Capacitors have vital functions such as building up electricity, passing alternating current while blocking direct current, and absorbing noise that causes glitches in electric devices. Capacitors are assorted to several types including ceramic capacitors and tantalum capacitors according to materials used, and each of them have their specialties.
Aluminum electrolytic capacitors, our main product line, have outstanding features compared with other capacitors: storing large amounts of electricity, enabling development of products in various sizes, and being versatile enough to be used in home appliances, information communication devices, automobiles, and industrial devices.
Around 1000 aluminum electrolytic capacitors are used in your home. It is an essential electronic component for our daily lives.
Application Fields of Aluminum Electrolytic Capacitors
| Flat-Screen TV | Personal Computer | Home Video Game Console | Inverter Driven Air Conditioner | Inverter Driven Washing Machine | Automobile | Power Conditioner for PV Generation System for Home Use |
| --- | --- | --- | --- | --- | --- | --- |
| 10~50pcs | 10~60pcs | 10~30pcs | 20~30pcs | 20~30pcs | 50~250pcs | 30~50pcs |
Structure of Aluminum Electrolytic Capacitors
The figure below shows the basic structure of aluminum electrolytic capacitors.
Separator sheets are placed between aluminum electrode foil with lead wires, and rolled up. This roll is then impregnated with electrolyte and inserted into an aluminum case, sealed up with a rubber seal. Characteristics including voltage are written on the aluminum case armor.
Materials boxed in red are developed and manufactured in-house, and that is the strong point of Nippon Chemi-Con. More detailed explanation on our material development is provided in "Nippon Chemi-Con's Strength."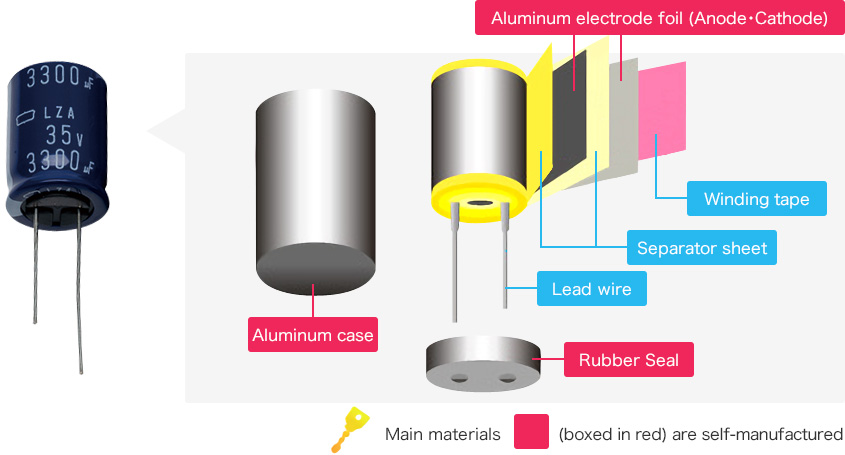 Nippon Chemi-Con's Strength
Material Development Is Our Strong Point
With the advancement of electronic devices, electronic components have been required to provide higher performance. The key factor for the development of electronic devices with higher performance is material development.
Nippon Chemi-Con has put great effort into research and development of capacitor materials since its establishment. Particularly in the development of aluminum electrode foil, the defining element of the performance of aluminum electrolytic capacitors, we possess the world's most advanced technology.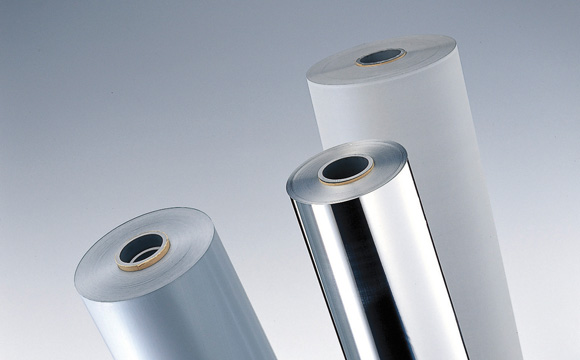 The amount of electricity stored in an aluminum electrolytic capacitor is proportional to the surface area of electrode foil. If we increase the amount of electrode foil in order to create more surface area, finished products will become larger and larger and will not be able to be mounted on downsized electronic devices.
We therefore use technology called "etching" to apply countless micro-holes on the surface. This method expands the surface of the electrode foil approximately 300 times, realizing a small but high performance aluminum electrolytic capacitor that stores a lot of electricity. This material technology is what Nippon Chemi-Con's core technology is all about.
Nippon Chemi-Con also leads the world in production volume, and our aluminum electrode foil is sold to our competitors.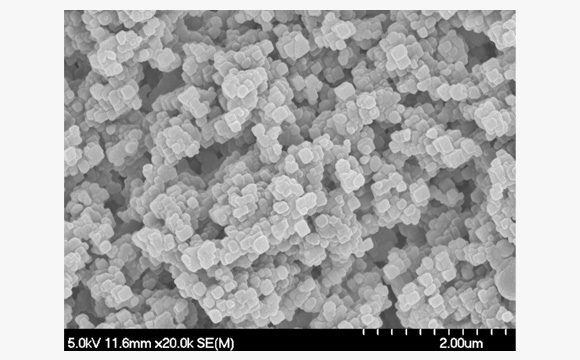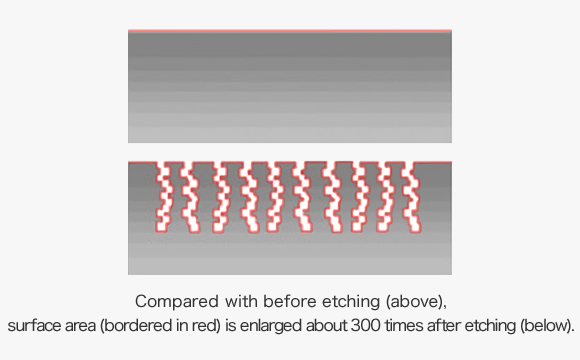 Strength to Produce New Products
As explained earlier, Nippon Chemi-Con carries out product development based on advanced material development. Central to this material development is the Basic Research Center. We work on advanced material research with an eye to five years or even ten years ahead. Product R&D Departments undertake products development. They develop new products using advanced materials developed in Basic Research Center. Product R&D Departments give feed back on development process to Basic Research Center for higher precision development. Collaboration between Basic Research Center and Product R&D Departments creates high-value added, leading-edge products. In addition, production technology is required to mass-produce materials and products developed. Nippon Chemi-Con's production technology is introduced in the next section.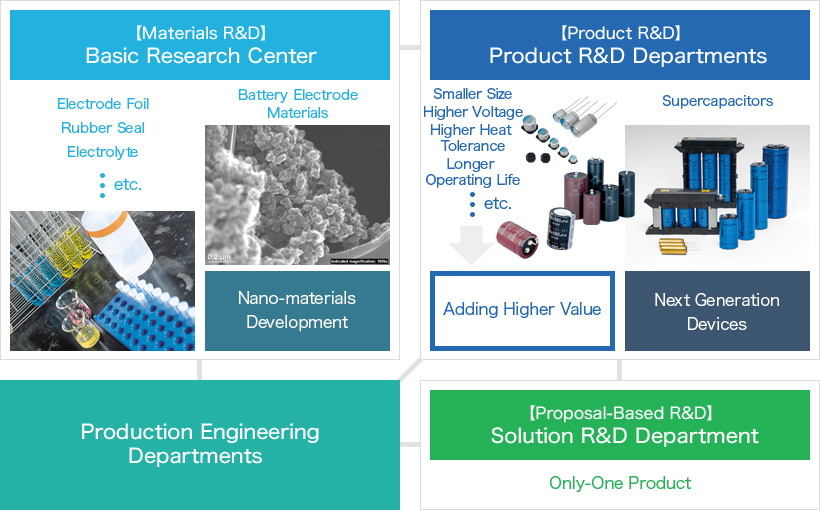 Self-Developed Production Facilities
Nippon Chemi-Con's dedication to product creation extends to the development of production facilities. From production facilities for materials to assembling machines for capacitors, many important production facilities are self-developed.
By developing and implementing our original facilities that reflect opinions of production sites, we have achieved high level of both quality and productivity.
Nippon Chemi-Con is dedicated to developing production facilities for our uncompromising product creation under ideal conditions.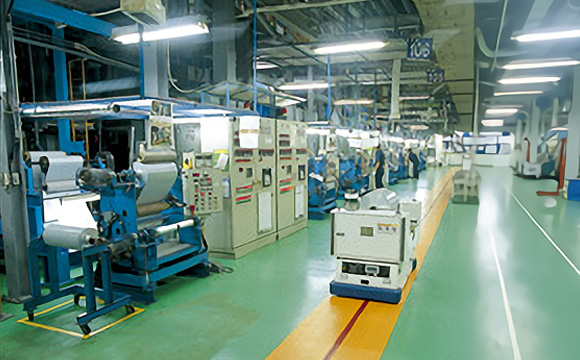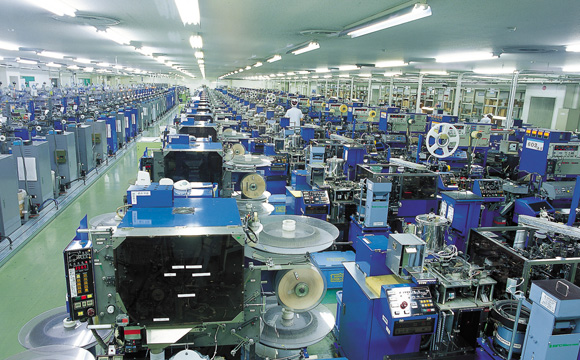 Global Business
Nippon Chemi-Con has developed business globally. Our sales destinations include Greater China, the largest market, followed by Japan, Europe, and the Americas. We have also deployed production sites and sales offices globally in ten major regions, to build world-wide network for our global management strategies.