Ceramic Varistors F Series Developed - Smaller size and higher current achieved
Nov. 29, 2021
Press Release

Nippon Chemi-Con Corporation
October 5, 2021
Ceramic Varistors F Series Developed
Smaller size and higher current achieved
Nippon Chemi-Con has newly developed the F Series, a downsized and higher current version of the existing disc type ceramic varistors V Series.
In recent years, power supply boards for general purpose home appliances and inverter boards for industrial equipment are becoming smaller. These products contain many of our ceramic varistors and we have been receiving requests for downsized products while maintaining surge performance.
To meet these demands, we achieved downsizing of the V Series through optimization of the element composition and internal structure. The F Series has a maximum of approximately 30% higher surge current compared to same size products of the existing Series. Comparing products with the same surge performance, the mounting surface area of substrates can be reduced by up to 22%.
[Comparison of Downsizing]
| | | | | |
| --- | --- | --- | --- | --- |
| Existing size | | New size | | Comparison to exisiting |
| ⌀14/V Series | → | ⌀11/F Series | | Approx. 13% downsized |
| ⌀20/V Series | → | ⌀14/F Series | | Approx. 22% downsized |
[Main Specifications]
Size: ⌀11mm, ⌀14mm
Varistor voltage range: 200V to 1,100V
Operating temperature range: -40°C to +85°C
Endurance: Guarantees 1,000 hours at 85°C, maximum rated voltage applied
Guaranteed surge resistance per surge:
Case size
Varistor voltage
200V to 560V
620V to 1,100V
⌀11
6,000A
5,000A
⌀14
10,000A
7,500A
Case size
D
T
H
⌀11
14.0mm
Max.
5.2mm to 10.1mm
18.0mm
Max.
⌀14
17.5mm
Max.
20.5mm
Max.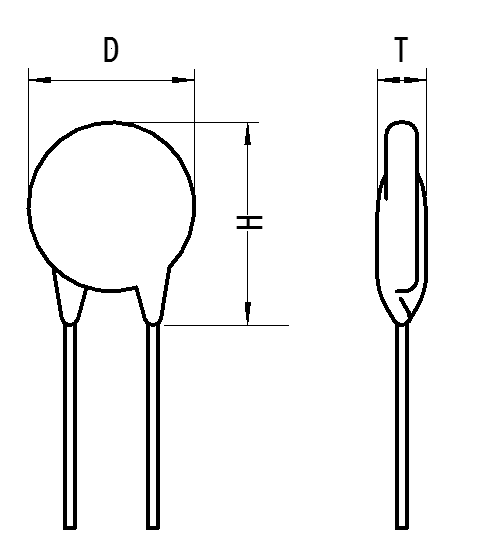 [International Safety Standards]
We plan to achieve UL, VDE and CQC certification.
[Samples]
Scheduled to be available from January 2022
[Mass Production]
Scheduled to start in June 2022
[Production Site]
Chemi-Con Yamagata Corp. Nagai Plant
[Product Appearance]