What are Nanocrystalline Magnetic Materials?
Nanocrystalline are soft magnetic materials that have nano-sized crystals in amorphous alloys.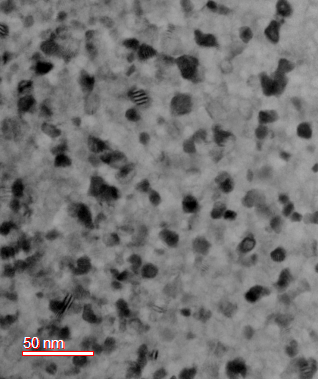 【Fig. 1】TEM Image of Nanocrystalline Magnetic Material (Material Under Development)
Nanocrystalline alloys have higher relative permeability and saturation magnetic flux density than general ferrite materials. They are suitable for Common Mode Choke Coils because they are small and can reach high inductance (Table 1). They are sometimes called "nanocrystal" using the Japanese reading of the English name(Nanocrystalline).
Our lineup of Common Mode Choke Coils using Nanocrystalline materials contribute to the miniaturization and weight reduction of sets.
【Series using Nanocrystalline Magnetic Materials in mass production】
Materials

Saturation Magnetic Flux Density
Bm[T]
Curie Temperature
Tc[℃]
Nanocrystalline
(Nanocrystal)

1.23

15,000~31,000

570
Ferrite
0.5
5,000~16,000
130
【Table 1】Comparison of Nanocrystalline and Ferrite Materials
If you have any questions or inquiries that do not apply to the above, please contact us at the following address.