SMD Type Aluminum Electrolytic Capacitors MZT Series - Small-Sized and High Capacitance Capacitors for Automotive Electronics and Consumer Appliances Developed
May. 17, 2022
Press Release

Nippon Chemi-Con Corporation
May 17, 2022
Nippon Chemi-Con has developed SMD type aluminum electrolytic capacitors MZT Series with a maximum 50% higher capacitance for the automotive electronics market, industrial equipment market and communication base station market.
The downsizing and high-density mounting of printed circuit boards has led to increased requirement for electronic components to have further stable product characteristics under harsh environments.
The automotive electronics market requires capacitors with higher capacitance. One application for these are backup power supplies of electronic control units. They are also used in graphics such as car navigation systems, car audio systems, and instrument panels as measures against instantaneous voltage drops.
The MZT Series will greatly contribute to these requirements.
Technical Features
The MZT Series realizes a maximum 20% to 50% higher capacitance than existing Series (MZR Series, MZS Series) by adopting our newly developed high-capacitance aluminum anode foil and cathode foil.
Product Specifications
Category temperature range: -55°C to +105°C
Rated voltage range: 16V to 35V
Capacitance range: 510µF to 1,500µF (capacitance tolerance ±20%)
Case size: ⌀8mm×10mmL to ⌀10mm×10mmL
Endurance: 2,000 hours at 105°C
Samples and Mass Production
Samples: September 2022
Mass production: April 2023
Production Site
Chemi-Con East Japan Corp. Miyagi Plant
List of Standard Products
Size
⌀D×L [mm]
Rated Voltage
[Vdc]
Cap.
[μF/120Hz]
ESR
[mΩmax/
100kHz]
Ripple current
[mArms/
105℃,100kHz]
8.0×10.0
16
820
0.08
850
25
680
0.08
850
35
510
0.08
850
10.0×10.0
16
1,500
0.06
1,190
25
1,200
0.06
1,190
35
820
0.06
1,190
Product Appearance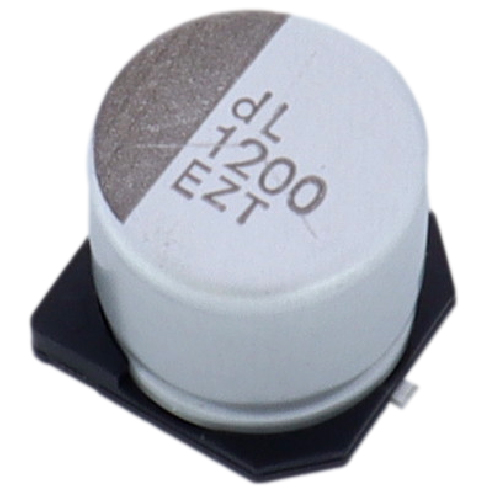 PDF