Supercapacitor DLCAP™ Modules MDKA150S8R3PE6111A for Industrial Equipment Developed
Nov. 29, 2021
Press Release

Nippon Chemi-Con Corporation
October 5, 2021
Supercapacitor DLCAP™ Modules MDKA150S8R3PE6111A
for Industrial Equipment Developed
Nippon Chemi-Con has developed supercapacitor DLCAP™ modules optimal for backup power supplies in emergencies such as power losses. The products are especially for use in industrial equipment.
This module contains radial lead type DLCAP™ DKA Series which is already being mass produced.
Many backup power supplies of industrial equipment use multiple DKA Series in connection. When used in this way, balanced circuits and failure detector circuits are needed separately.
However, as this module has built-in balanced circuits and failure detector circuits, it can reduce the strain of equipment design. By changing the terminal to screw terminal type, we have also made it easier to mount on equipment.
Overview of MDKA150S8R3PE6111A
This module connects six radial lead type DLCAP™ DKA Series (DDKA2R5ELL500KM50S: rated voltage 2.5V, capacitance 50F, case size ⌀18×50mm) in series. This enables use in up to 15V and the capacitance achieves 8.3F. The modules can be added in series or in parallel as needed, and can be custom-designed for embedding in systems.
*Please contact us if you are considering use of over five in series.
[Samples and Mass Production]
This module is already available as samples and will start mass production in December 2021.
[Main Specifications]
| | |
| --- | --- |
| Cell structure | ⌀18×50Lmm, capacitance 50F, 6 series-1 parallel |
| Rated voltage | 15V |
| Rated current | 10A (max. 30A) |
| Nominal capacitance | 8.3F (tolerance +10%, -15%) |
| DC internal resistance | 87.4mΩ or lower |
| Balanced circuit operating voltage | 2.4V (per cell) |
| Overvoltage detection voltage | 2.9V (per cell) |
| Overvoltage detection signal | Output from isolated B contact |
| Operating temperature | -40 to +70°C (including temperature increase in cell) |
| Mass | Approx. 200g |
| Outer size | D 152mm×W 65mm×H 28mm |
[Product Appearance]
◆Radial lead type DLCAP™ modules MDKA150S8R3PE6111A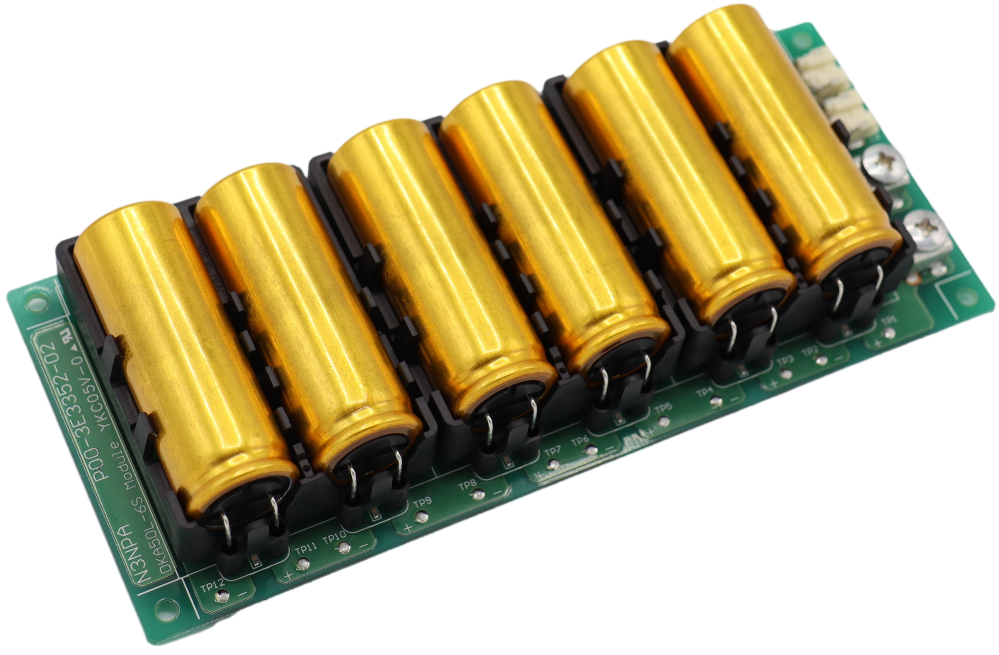 PDF