Development of Radial Lead Type Supercapacitors 2.7V Products DKG Series
Jun. 07, 2021
Press Release

Nippon Chemi-Con Corporation
May 18, 2021
Development of Radial Lead Type Supercapacitors 2.7V Products DKG Series
Nippon Chemi-Con has developed the DKG Series, which achieves higher withstand voltage and smaller size compared to radial lead type supercapacitors DKA Series. The DKA Series has been used in automotive power supply backup applications and has received many inquiries.

The DKG Series has a new material structure for higher withstand voltage and smaller size. The rated voltage has been increased from 2.5V to 2.7V, and the size has been reduced by up to 20%.
This will help optimize the design of equipment as a backup power supply for unlocking electric doors, shift-by-wire, EPS (electric power steering) and even drive recorders.
As before, acetonitrile (AN) solvent, which may cause cyanide gas, is not used as electrolyte. AN has a low viscosity and makes lower resistance possible by using them as electrolyte for supercapacitors. Therefore, it is widely used by manufacturers overseas. However, the DKG Series has a low resistance equivalent to or higher than that of products using AN.
[Main Specifications]
- Category temperature range: -40°C to +65°C
- Rated voltage: 2.7V
- Capacitance: 50F
- DC internal resistance: 16mΩ (⌀18 x 40 L), 13mΩ (⌀18 x 50 L)
- Case size: ⌀18 x 40 and 50 Lmm (new ⌀10 x 40 L size scheduled)
- Endurance: guarantees 2,000 hours at 65°C
[Samples and Mass Production]
Samples: April 2021
Mass production: April 2022
[Production Site]
Chemi-Con Yamagata Corp. Yonezawa Plant
[Product Appearance]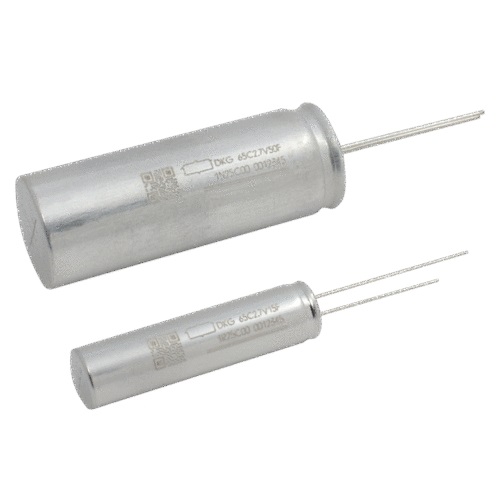 PDF