Discharging Module for Supercapacitor Evaluation N3JXJ
For capacitor evaluation
Stable output operation
With protection circuit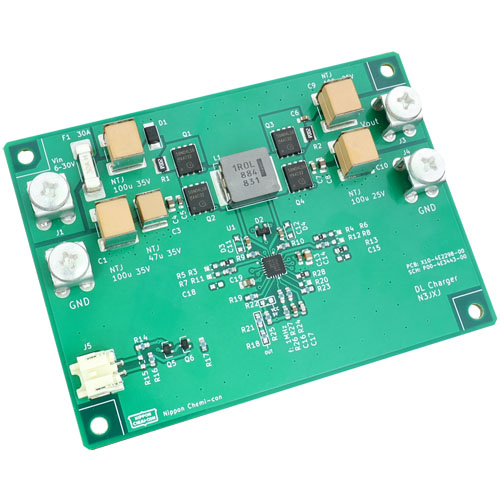 This is a non-isolated discharging module (DC/DC converter) that can be used when evaluating supercapacitors. It is a buck-boost converter and can output a stable voltage even if the input voltage (output from supercapacitor) fluctuates.
It is equipped with protective features such as an output stop function linked to the cell overvoltage detection function.
Specification
Part Number
N3JXJ
Status

?

In Production:Product is in mass production.
NRND:Not recommended for new design.
To be Discontinued:We are planning to discontinue production of this item.
Discontinued:Production of this product has stopped.
Under development :Products under development. Listed product specifications are subject to change without prior notice.

Under Development
Compatible Modules
Supercapacitors 6-unit Module
MDKA150S8R3PE6111A
Size D×W×H
65×90×13mm
Reference Weight

?

This is a representing value calculated from a standard material composition.
Note that the reference weights are not considered as guaranteed value.

50g
Operating temperature range
-40~+70℃
Storage temperature range
-40~+85℃
Cooling Method
Natural Air Cooling
Protective Features
Over Voltage/Over Current, Reverse Voltage, Thermal Shutdown
Input
Voltage Range
6~30V


Starting voltage: 6.5V

Current
25A max
Efficiency
96% max
Output
Voltage (Fixed Output)
12.125V
Voltage Accuracy
±0.1V +2%
Current
15A max (There is a time limit)
Ripple Voltage
p-p 150mV max.
The mounting option enables appropriate setting for the supercapacitor cell.
Please check the instruction manual for details.
Number of combinable supercapacitors in series: 3~12 series
(Under the condition that the maximum input voltage does not exceed 30V)
Dimension [mm]
Operating Waveform
Control Block Diagram
Sequence Chart