3.0V Withstand Voltage - Radial Lead Type Supercapacitors DKH Series
May. 17, 2022
Press Release

Nippon Chemi-Con Corporation
May 17, 2022
Nippon Chemi-Con has newly developed radial lead type supercapacitors DKH Series with improved withstand voltage and heat resistance. This is an addition to the existing DKA Series and DKG Series which have been used in backup automotive power supplies.


The DKH Series can withstand a rated voltage of 3.0V1 and realizes a higher heat resistance of 85°C2 and smaller size3.
 1
When used at specified temperature 65°C
 2
When used at rated voltage 2.6V
 3
20% smaller than DKA Series, equal to DKG Series
The higher withstand voltage increases the energy amount of each cell and achieves downsizing and weight reduction of systems through the reduction of total installed capacitors.
Main applications are backup power supplies for automotive electronics in emergencies. The Series will contribute to the optimization of equipment design for electric door locks, shift-by-wires, EPS (electric power steering) and dashboard cameras.
We will continue using liquid electrolyte that does not contain acetonitrile (AN) solvent, which may produce cyanide gas.
We have also achieved the world's first 2,000-hour guarantee at 3.2V50°C for radial lead type supercapacitors.
(*Based on internal research, March 2022)
Main Specifications
Category temperature range: -20°C to +85°C
Rated voltage: 3.0V
Capacitance: 50F
Internal resistance: 29mΩ
Case size: ⌀18mm×40mmL
Endurance: 2,000 hours at 3.2V50°C, 3.0V65°C, 2.6V85°C
Samples and Mass Production
Samples: May 2022
Mass production: December 2023
Production Site
Chemi-Con Yamagata Corp. Yonezawa Plant
Product Appearance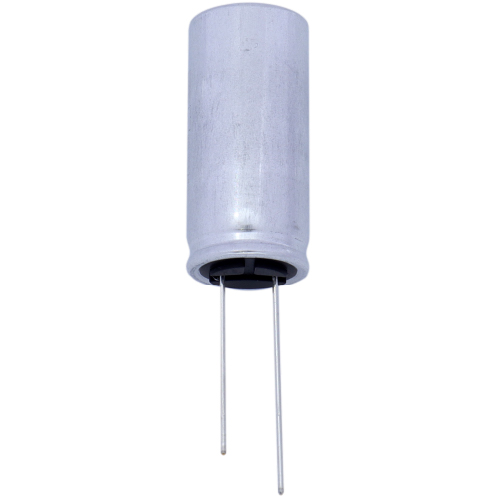 PDF